Today's challenge wasn't never going to happen for me so I just had to think outside of the box and come up with a clever way to try to meet the brief. Even just walking outside was a stretch for me today. Feeling unwell is not any fun. Anyway, this is what I came up with.
Image Your Bucket List!
One of my bucket list items is to trek the Camino de Santiago. I have talked about this incessantly with my partner and have set myself a deadline of the summer/autumn of 2018 to get there. This gives me plenty of time to get to the fitness levels necessary to complete this goal.
I have two close friends who have already done it and every time I speak to them they tell how fabulous and worthwhile it is.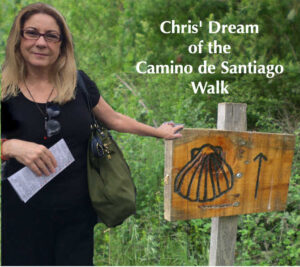 To keep me dreaming of this adventure and to continue with the challenge momentum, I have put together a composite photo of me from a trip earlier in the year and a photo of the trail sign.
Did I mention my Photoshop skills need a bit of work…. 🙂
This will be me in the very near future!
Not exactly what Natalie asked for but it's something, right?
This blog post is in response to Natalie's 10 Day Freedom Plan Blog Challenge Day 8