Hi, I'm Chris Hollingworth and I'm a travel fanatic! It's my passion. 🙂
About Chris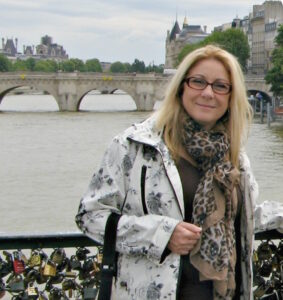 I took my first plane trip on a Boeing 747 or what was colloquially known as a jumbo jet. This was way back in the seventies.  Of course, I was with my family but it really gave me my first taste of actual travelling and I haven't stopped since!
I currently live in Melbourne, Australia with my husband and cat but was born and raised in Sydney. My family were all immigrants from the UK, which explains my love of London and the English countryside!
I have also lived in London (not unusual for an Australian!) and also lived for a time in the beautiful Tirol region of Austria.
I have packed up, downsized my home and moved state or countries 3 times over my lifetime and I am seriously considering doing it again in the next couple of years.
I try to travel overseas at least once a year but the tyranny of distance living in Australia, not to mention the cost, sometimes makes this a challenge. I do manage to get in as many short hops around Australia as I can though.
Currently I am on a mission to get fit for travel. I like to walk and trek but as an 'older' women you need to make conscious efforts to achieve that goal. Read about my journey here.
A few more of things about me:
Female, mature (in age) but not my outlook on life!
Not really retired but no longer going to a day job each day.
I like to refer living in Australia as 'living in the future' because we are many hours ahead of the rest of the world.
I like to think I have a great sense of humour – not everyone will agree lol…
Impatient – everyone agrees with that!
Travel as much as financially possible
I also enjoy imparting my knowledge to others 
About TOUR TREK TRIP
The original idea behind this site was for a place to chronicle my varied travels over the years and to compare these places to how they are now. You will still find that here.
It's also a place to discuss what it's like to be over 50 and still want to travel. Or, how to get the most out of travelling when you're no longer a millennial!
I love to help over 50's adventurers overcome their objections to travelling as they age. How to prepare, get fit and keep fit so travelling will be fun experience rather than a miserable one. No one likes sore muscles and aches when you are away from home.
If you're interested in getting fit to travel, enjoy an adventure, want to see exotic places or get a bucket list started then join me on my quest to achieve all of those things. You'll be glad you did!
Follow me where ever I go!