*Disclosure: This post may contain affiliate or referral links.
As I write this travel memoir, the 2017 French Open at Roland Garros is underway. I love watching tennis on TV and have also been to my fair share of tournaments but attending a 'Grand Slam' is really special for a tennis fan.
By 2012 we had attended Wimbledon twice, the US Open twice and the Australian Open 13 times, so the French Open was required for us the complete our personal "Grand Slam"!
So the decision was made we were going to achieve our goal for the following year in 2013.
The planning for this trip was really easy.  We had been to Paris in the past so were quite familiar with the city and how to get around it easily.
Purchasing Tickets
Of course the first thing we needed to do was book the tennis tickets! Everything was going to revolve around when we would be attending the tournament.
So in early March, I created an account on the Roland Garros official website and managed to get the tickets I wanted when they went on sale.
We had also invited another tennis loving couple who were living in London to join us in Paris. I bought tickets for the entire group from Australia. As it was our first time we opted for ground passes for two days on the Monday & Thursday with seats for Court 1 known as the Bullring for the Tuesday.
The French have a strict system requiring you to name your tickets and print them off a day before you are attending. The system seems to work well to thwart scalpers and even though you need to present an I.D. at the gate, getting inside the grounds was quite quick.
Once the tickets were safely booked and paid for, we started looking at accommodation options.
Getting to Roland Garros
Roland Garros is situated in Paris' 16th arrondissement, which is a fair way out from central Paris.  While you can stay closer to the tournament opting to stay nearer to the city centre made more sense from a sightseeing prospective.
We had been to the 'City of Lights' a couple of times before and had always stayed in the popular Latin Quarter. 
We love this area as it is close to Notre Dame and lots of other Paris highlights are within easy walking distance. There is no shortage of great bars, cafes and restaurants in the Latin Quarter making staying in this area an easy decision.
It was also a great choice for attending the tennis. The Metro Line 10: Gare d'Austerlitz – Boulogne runs straight to Roland Garros without the need to change trains. Very convenient!
We started at Odéon station and travelled to Porte d'Auteuil station. It was then a short walk to the stadiums. Just follow the crowds!
Here is a link to the official Paris Metro Map
Inside Roland Garros
Once at the tournament we spent time wandering around the grounds to get a feel of the layout and where things were, such as food and drinks areas.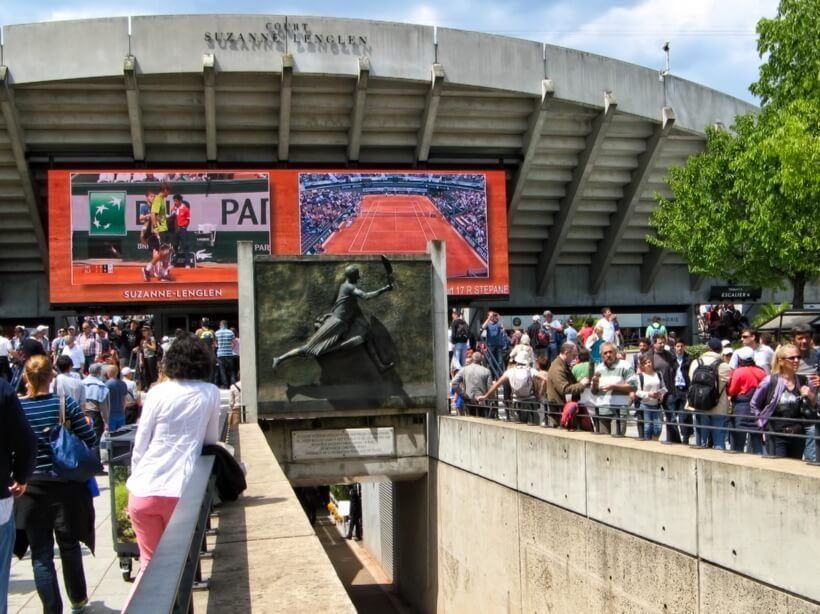 Above is Court Suzanne Lenglen which is effectively the second major court in the complex. This court has separate ticketing so you need to decide if you want to be in here when you buy your tickets.
As you can see, this is a great vantage point to watch the action on this court if your favourite player happens to be playing.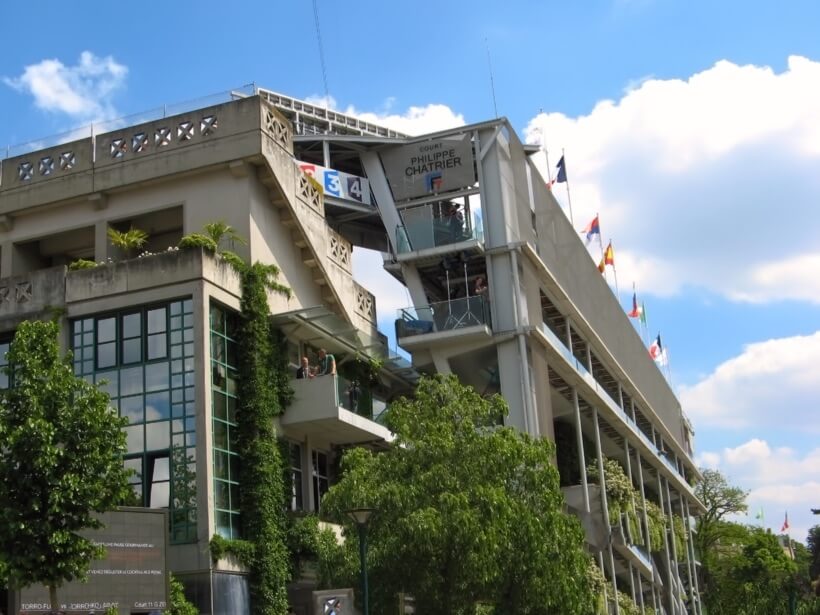 Another view of Centre Court – Philippe Chatrier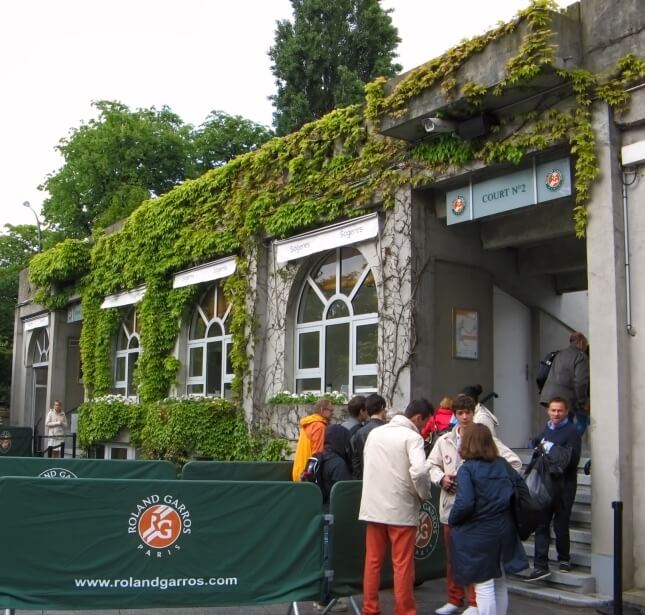 Entrance to Court 2 above. One of the quaint features of the French Open is the courts look very old worldy. Many of the walls are covered in ivy and there is a lots of greenery everywhere.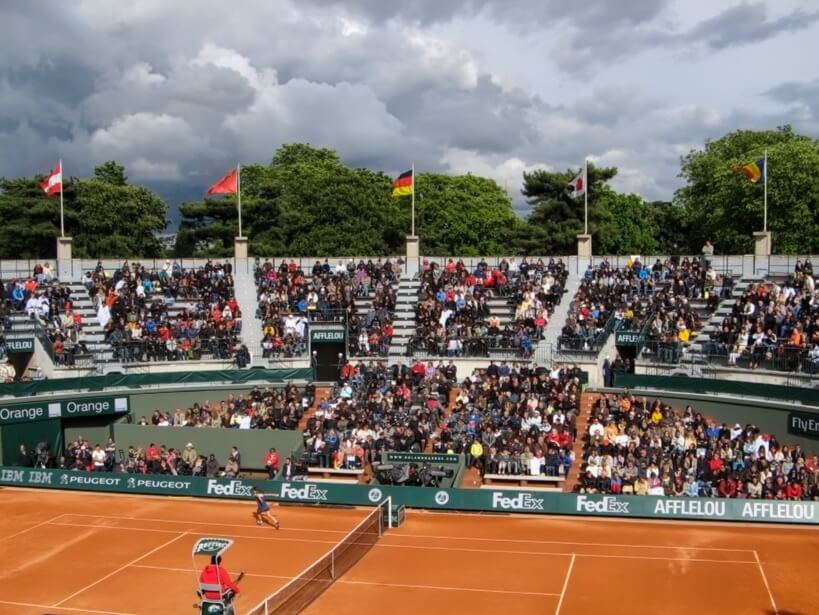 On our second day we opted for ticketed seats instead of a ground pass and spent the day on Court 1, also know as the Bullring. The unique shape is what gives this court it's nickname. Well named!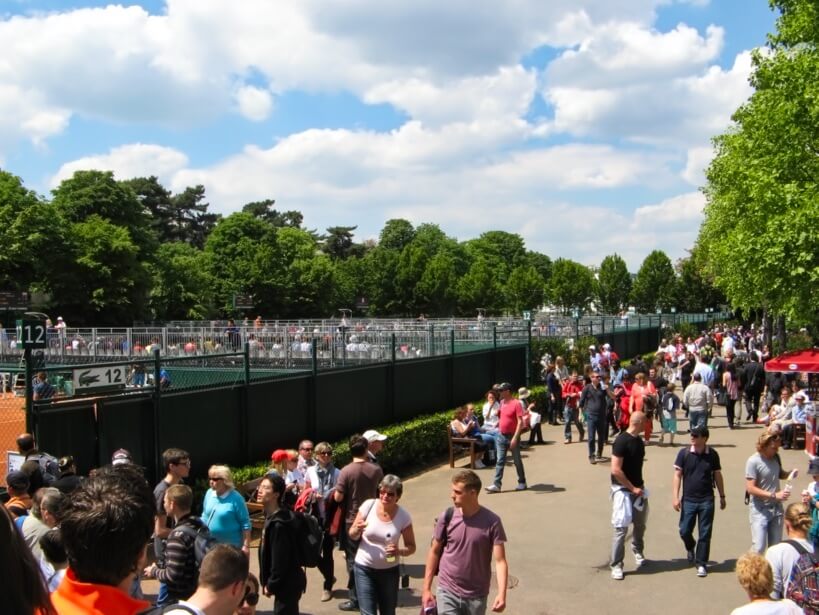 The outside courts are in a couple of different areas around the complex. You do not need a special ticket to enter and watch on these courts but it's first in best dressed. You will need to be prepared if well known players are drawn on these courts as competition for access is fierce!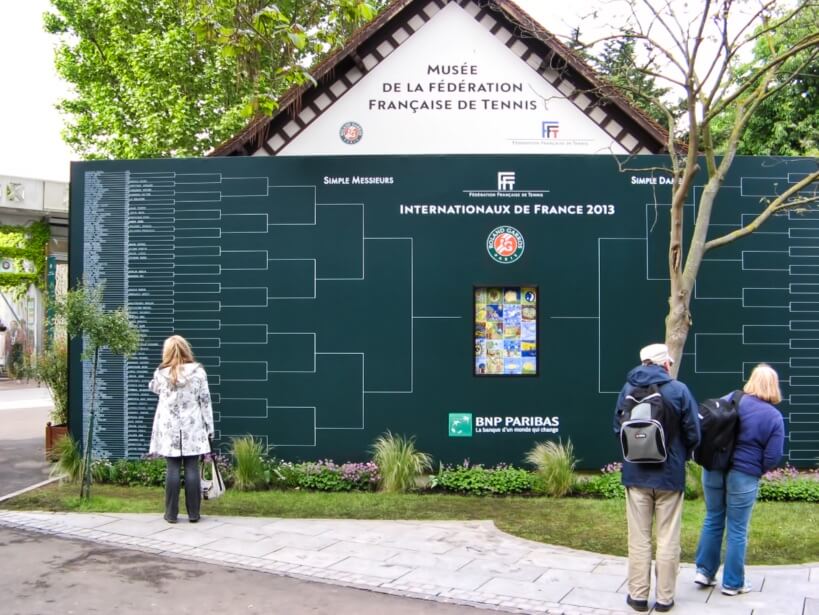 If you are need a break from the tennis action there is a great museum containing some fascinating memorabilia from the French Tennis Association. It's also a great way to escape the elements for a while. Highly recommend you take some time out to visit.
Accommodation Ideas
As we were planning to stay in Paris for a week getting a hotel for 4 people seemed a bit expensive. I opted to rent an apartment instead. This turned out to be a fantastic decision as they come with full kitchens for preparing your own meals which is a great cost saver.
After a bit of research I decided All Paris Apartments http://www.all-paris-apartments.com looked like a great deal.
All Paris Apartments are part of http://www.gowithoh.com/en/ which covers most desirable European cities. We had a great experience with this group and I highly recommend them.
Look out for a future post on our stay in the Latin Quarter and the apartment experience.
Tournament Tips
If you are planning to go to Paris for the tennis here are a couple of tips to make your visit easier.
Create an account for tickets as early as you can. Tickets sell out quite fast. A bonus for having an account is you will be sent reminders each year when tickets are available for sale
If you are staying for more than a few days or if you are going to Paris with a group – consider renting an apartment instead of separate hotel rooms
Give yourself plenty of time to get to the stadium, especially if it's your first time. There is a bit of a walk from the station to the stadium
The weather in Paris that time of the year can be erratic. When we visited, we experienced hot sun and high temperatures on one day and cold rainy weather on another day. Take layers to the tennis as there aren't any covered courts like the other slams and very little protection from the elements
The tennis can also be very tiring, so consider having a days break to recharge your batteries if you are going for more than 2 days
So there you have it! All in all, we had a great time and were really happy to have completed our Grand Slam and we are always talking about going back again. Perhaps in the near future!