*Disclosure: This post may contain affiliate or referral links.
Cut out to be a location independent worker?
The question today to imagine being on a long holiday in your dream destination and how to balance both work and fun while you are away.
It was the very question I asked myself last year. I spent 9 weeks in the northern hemisphere summer and planned to use that trip as an audition to see if I would enjoy working and playing at the same time!
I travelled in 3 different countries:
England – (London, Oxford and Cotswolds)
Portugal – Vilamoura, Algarve
France – Montpelier, Orange, Lyon & Burgundy Region)
It seemed like a great idea as I was staying mostly with friends and only some motels. It should have been a snap – I failed. Miserably! Look below – you can see why!
It certainly didn't come close to my perfect day I wrote about last week!
Why was this? Well apart from the fact that I was spending huge chunks of time socialising with my friends, I just didn't have a proper plan.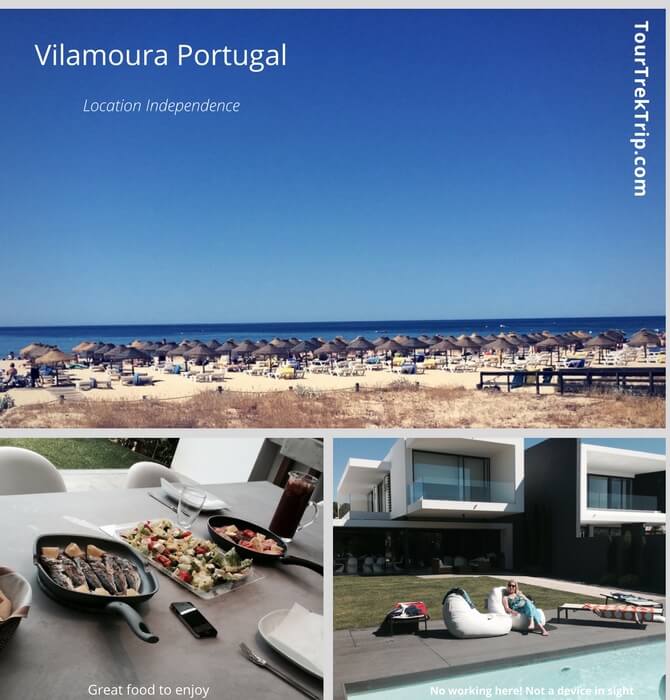 What do I need to make it work next time?
My downfall was just not setting things up correctly from the get go. No only do you need to have a great working plan but you will need your technology sorted out as well.
Things you will need
Wi-fi obviously, but if you are staying in hotels more consideration could be needed. Will they give you some free wi-fi to get your work online? Do you have a local sim card with some data on it? Sort that out before you go.
I don't travel with a laptop but on this trip I had access to my friends computers if I needed them. This may not always be possible so…I travel with both an iPad and iPhone and find that they have enough functionality to get most jobs done.
Other things to consider are:
peripherals – such as keyboards, a mouse and a good charger if relying on phones and tablets to get work done
apps – the right type of apps will make life easier. You probably already have all your social media apps installed but what about writing apps, schedulers, communication apps & photography apps. Make sure they are up to date before you leave home.
Things you can do
I failed to get this test off the ground because I didn't have the blog I wanted use set up correctly. Doing all that techy stuff while being on the road is not ideal. That was my first mistake!
Luckily I did take lots of photos and shared a lot on social media but didn't do any blogging!
Here are a few tips to use for next time:
prepare some work before you leave home eg: write some blog posts or at least get a some drafts going. Have them already set up on your blog platform
create some social media posts – having some posts already prepared can save a lot of time
batch tasks each day – if there is only limited time each day to get work done then batch similar task together
set aside the same time each day – morning would be best so there is plenty of time to enjoy your holiday
automation – automating tasks where possible, such as setting up tweets in Buffer or something similar will save a load of time. Just don't overdo it
In the end most of these ideas are not rocket science but it's surprising how overwhelming getting tasks done is when away from your home environment.
I will be taking my advice next time I go on an extended holiday! Wish me luck.
This blog post is in response to Natalie's 10 Day Freedom Plan Blog Challenge Day 9